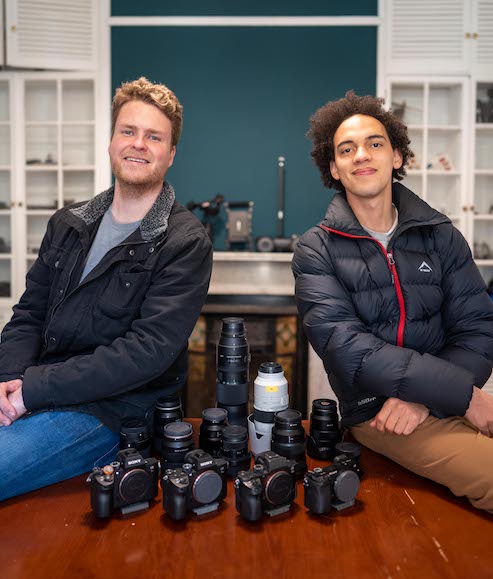 Having had independently successful careers in both photography and videography, Luke Bell and Hloni Coleman decided to team up in 2019 to start XCIV Pictures: a small-scale production company creating visual media for a variety of companies, from start-up fashion brands to large-scale tourism corporations.
Luke started his film making career while studying Mechatronic Engineering at the University of Cape Town. After building his first drone, he soon discovered his love for film making. 4 years later and sick of studying, he bought his first Sony mirrorless camera and decided to give film-making a go.
He began his career by shooting for hotels and small companies based in South Africa. As his viewership grew, so did the opportunities he was given. Since starting he has now shot in all 7 continents around the world and has visited places few people ever get the opportunity to see. His main goal with his work is to inspire people and encourage others to follow their passions and tell stories that they are proud of.
Hloni started his creative journey in 2013 and within two years, had gained local and international acclaim for his photography. From then he entered the world of moving pictures, creating campaigns for companies around the globe but none had a more lasting effect than the work he did for South African Tourism. From then on his work became intrinsically tied to sharing South African stories and experiences and under the mentorship of legendary South African Director Mpho Twala, Hloni learnt a 'boots on the ground' approach to storytelling.
He is passionate about creating narratives from exploring the spaces he wishes to capture and telling the stories of those he meets therein. By 2017 he became the youngest person to direct a national TV campaign in South Africa. Hloni's career has been shaped by the rapid advances in camera technology over the past decade. These advances have allowed him to assemble micro productions telling stories that were once too small or inaccessible to the productions of old.
With XCIV's success, Luke and Hloni have also recently added Kayla Petersen, and Rebecca Manners-Wood to their team as editors and videographers. They are both very talented up-and-comers and flourishing under the guidance of Luke and Hloni, always with a Sony camera at the ready.