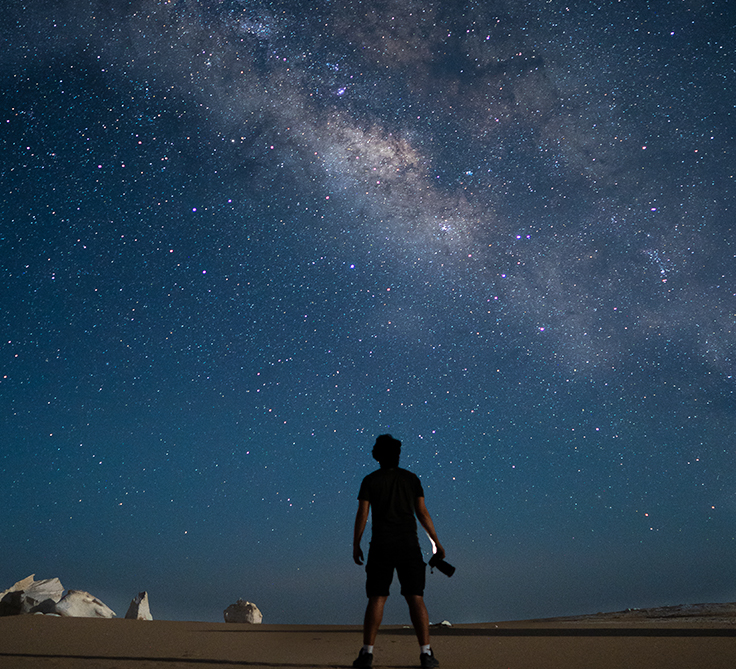 THIS 2-NIGHT, 3-DAY WORKSHOP WILL GO FROM SUNRISE TO SUNSET AND WILL INCLUDE A WIDE RANGE OF ACTIVITIES WE WILL BE PHOTOGRAPHING. THIS WORKSHOP IS LIMITED TO 10 SPOTS.
You will be learning from Koree how to be prepared and organized to capture stunning images.
In this workshop you will learn lifestyle photography, Astrophotography, and also time-lapse, after each photoshoot, there will be a post-production session to cover all that you shot during the workshop.
This is the best time in the year to shoot the milky way.
Register now.
Koree
Half Korean Half Egyptian, born in Queens, New York now based in Alexandria Egypt, Abdel Rahman Gabr (Koree) is a Filmmaker and a Photographer. He captures inspiring and engaging stories and creative insights, working across a broad range of media, generating original creative insights and executions in TV Ads, Photography, and Advertising.
Founder of Qube Productions & Koree Films, he grew up in a fascinating cultural melting pot consisting primarily of Korean and Egyptian families, so he was certainly no stranger to the joys and challenges of cultural diversity. After 13 years in the U.S. his family moved to Alexandria, Egypt, another city noted for accommodating diverse nationalities and religions but with a distinctly Mediterranean flavor. After finishing high school, he went on to study Computer Engineering but never went to the field.
Abdelrahman Gabr documents the people and places in Egypt with a profound lens, purveying a certain magic in every shot, inspiring wide-eyed patriotism for this chaotic, ancient civilization. He captures the spirit of specific Egyptian cities through an incredibly cinematic visual rhetoric.